Lumière Blanche by Olfactive Studio
Sidonie Lancesseur plays with the contrast between spicy freshness and mild warmth in this unisex fr…
Learn more
Lumière Blanche Unisex fragrances by Olfactive Studio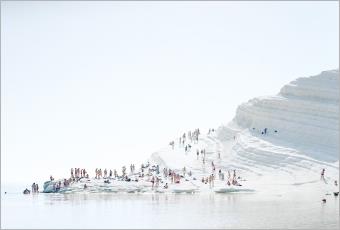 Sidonie Lancesseur plays with the contrast between spicy freshness and mild warmth in this unisex fragrance creation. The top note of Lumière Blanche will surprise you with aromas of cardamom, star anise and cinnamon. Iris embodies the colourful glory of summer and is softened somewhat by almond milk and cashmere wood. The fragrance by Olfactive Studio flows in a striking and sensual manner into a pot-pourri of white musk, cedar wood, sandalwood and tonka bean. The ingredients used point to an exceptional fragrance from the unisex fragrance segment. It is precisely this unaltered nature that is desired here, resulting from an artistic symbiosis.
Surreal fragrance scenario by Olfactive Studio
Olfactive Studio uses an innovative approach in composing its unisex fragrances. Photographer works are the inspiration behind the fragrant creations. Working together, the artists and perfumers aim to foster a poetic relationship between the pictures and the fragrance. Massimo Vitali created the master for Lumière Blanche. The photo depicts a scene on the Italian coast. The heat and light in the middle of summer causes overexposure that makes the hustle and bustle on the beach seem almost cool and surreal. As a result, the real goings-on actually look like a tempting Fata Morgana. It is precisely this surreal moment that Lumière Blanche attempts to capture, ensuring that memories are brought back to life by the fragrance.