Ombre Indigo by Olfactive Studio
Ombre Indigo is one of the exceptional unisex fragrances made by Olfactive Studio. The fragrance fea…
Learn more
Ombre Indigo Unisex fragrances by Olfactive Studio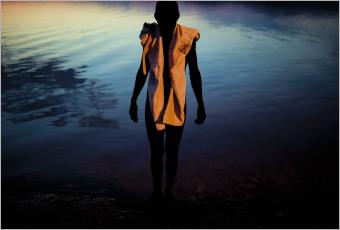 Ombre Indigo is one of the exceptional unisex fragrances made by Olfactive Studio. The fragrance features an innovative form of cooperation between perfumers and photographers. The pictures are a source of inspiration for fragrant creations that bring memories back to life again, thus detaching a particular scene from time. Gustavo Pellizzon is the creator of the visual master which depicts the shadow of a man by the sea. With this photographic work, he wanted to evoke memories of the hidden and most intimate facets of an individual who is concealed by darkness. Looking at it from a different perspective, the protective shadow particularly shows off slight movements and fine contours as well. This exciting contrast and enigmatic scenario are addressed by this unisex fragrance creation.
Opulent pot-pourri for the mysterious scenario in the shadows
Mylène Alran decided to create an opulent and smoky fragrance to capture the photography in an olfactory product. Tuberose is somewhat reminiscent of fairytales and is highly regarded for its aphrodisiacal and euphoric facets. Combined with the subtle spiciness of saffron, the fragrance by Olfactive Studio opens up with an intense note. The heart note adds a mysterious, warm and almost animalistic touch with leather, papyrus and vetiver. The finale of Ombre Indigo has got everything, giving the composition something truly beguiling. The seductive power of musk and the Oriental flair of amber make up the base note. Ombre Indigo is an extravagant fragrance from the ranks of unisex fragrances. In a more general way, Olfactive Studio emphasises the fact that the fragrances are just like angels: they are not assigned to any particular gender but have a unique soul.