Ultra Violet Man by Paco Rabanne
Spanish style meets French seduction and creativity, without compromises! Paco Rabanne, born in 1934…
Learn more!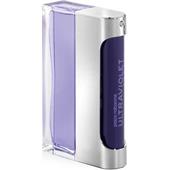 Paco RabanneUltra Violet ManEau de Toilette Spray
BP: €70.95* / 100 ml
Ultra Violet Man Men's fragrances by Paco Rabanne
Spanish style meets French seduction and creativity, without compromises! Paco Rabanne, born in 1934 in the Spanish town San Sebastian, began his career in Paris in the 50s. Ultraviolet Man is an oriental and woody perfume for men from the house of Paco Rabanne. The fragrance combines the sensitive side of the man with the dynamics and strength, which define masculinity. This is also reflected in the flacon, which unites the two sides of the man - on one hand, silver and powerful, and on the other hand, violet and sensible.