Élixir by Payot
Élixir is the name of the relaxing and exciting oil in the care and cosmetic line from the Dr. Nadia…
Learn more
5/5 AggregateRating
Élixir Skin care by Payot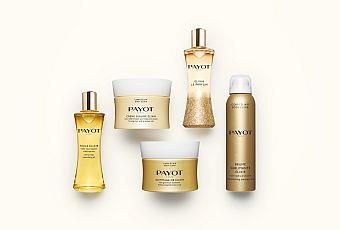 Élixir is the name of the relaxing and exciting oil in the care and cosmetic line from the Dr. Nadia Payot Laboratories. The pure plant oil composed of high-quality balsamic plants nurtures the body, hair and face with a unique care formula. The rich oils and extracts from osmanthus, rice, hazelnut and almonds have unique care properties, strengthen the skin against harmful environmental influences and promote the regeneration of damaged skin and skin areas. Concentrated extracts of myrrh and amyris encourage the regeneration of the epidermis, while ensuring a beautifully radiant complexion at the same time.
Elixir with precious natural active agents for daily well-being
The ancient Greeks and Egyptians already used the healing and nurturing effect of natural oils and extracts. Just a few drops of the natural oil make the skin supple and radiant in an instant. The hair receives a nurtured look and a silky shine. The care and cosmetic elixir is also suitable as aromatherapy for the daily bath. Élixir from the Payot Laboratories is suitable for all normal hair and skin types and is persuasive due to its unique therapeutic properties.