The Sinner Women's fragrances by Police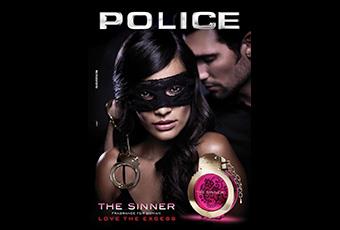 Sins can be so nice: Like all fragrances from Police, the perfume The Sinner is presented in an elaborately designed bottle. The rock-style design is a hallmark of the company. The bottle for The Sinner is in the shape of handcuffs and seems to be an invitation to some naughty games. The middle of the bottle glows in a bright pink and is decorated with a feminine floral design. It's clear that this is a women's fragrance. And it's just as clear that the Police label found inspiration in the bestselling "50 Shades of Grey". But of course the perfume from Police isn't just all about optical seduction. A sensual combination of fragrance notes tickles the nose – perfect for women who love adventure.
A touch of seduction
The Italian fashion label Police has been presenting high-quality women's fragrances for a few years now. The Sinner was launched in 2014 as the counterpart to the men's fragrance of the same name. When you apply it, the perfume seems almost innocent and exudes the fruity notes of cassis and apple. The middle note enchants with the warm aromas of jasmine and orange blossom. The base note is formed by a sensuous mixture of exotic vanilla with the woody and sweet notes of tonka bean and cedarwood. Fragrances like The Sinner by Police are absolutely perfect for evenings. With its seductive notes, the perfume will awake the desire for more and will turn many heads.