Beard grooming by Proraso
A beautiful beard demands proper care! The beard care products from Proraso guarantees exactly that:…
Learn more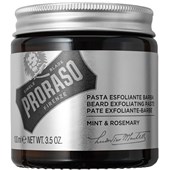 ProrasoBeard groomingMint & RosemaryBeard Exfoliating Paste
€11.25
/ 100 ml
BP: €112.50* / 1000 ml
ProrasoBeard groomingMint & RosemaryPost-shave powder
€3.75
/ 100 g
BP: €37.50* / 1000 g
5/5 AggregateRating
Beard grooming Men's skin care by Proraso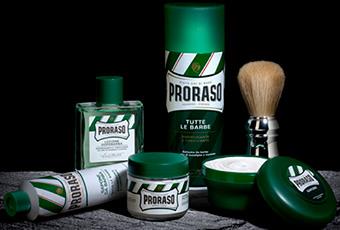 A beautiful beard demands proper care! The beard care products from Proraso guarantees exactly that: Top-class beard care that extends from shaving right through to subsequent pampering. The cosmetic brand offers discerning men an unbelievably varied assortment, which combines more than a dozen products for high-quality men's grooming. The products are suitable for shaving with the classic electric or safety razors and also for those who shave with a traditional razor or knife. To prepare the skin and beard hair, you can use a lightly foaming shaving foam from a tin, whilst the shaving soap from Proraso is recommended for shaving with a cut-throat razor. This is made foamy with the help of a shaving brush and applied over the face, guaranteeing both a stylish and gentle shave .
Men's grooming from Proraso - for discerning men and their beards
The innovative healing gel is recommended for those little nicks and cuts that can happen during shaving, no matter what sort of razor you use. The gel will stop nicks bleeding and will encourage the natural regenerative powers of the skin. After shaving comes care of the skin because, after all, you definitely want to avoid irritation or classic shaving rash. The multifaceted assortment of products for shaving and grooming will thrill with the gentle aftershave balms, which are available as classic aftershave or as lotion. For a very special grooming experience, the Beard oil will leave your beard hair with a wonderfully soft texture. You'll find all these treatments in the range in different variations.