D:FI by Revlon Professional
The hair care products in the D:FI Line by Revlon Professional satisfy all the wishes you could have…
Learn more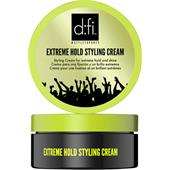 Revlon ProfessionalD:FI Extreme Hold Styling Cream
€10.55
/ 75 g
BP: €140.67* / 1000 g
5/5 AggregateRating
D:FI Hair care by Revlon Professional
The hair care products in the D:FI Line by Revlon Professional satisfy all the wishes you could have of a complete series of cosmetic and styling products for the care of your hair. Thanks to their unique composition, they offer extraordinary, reliable hold and also smell outstandingly fresh.The D:FI Shampoo and Conditioner are optimal for daily use. The Volume Cream lends the hair more fullness, great shine and easy sculptability. The D:FI Reshapable Spray lets you repeatedly and effortlessly restyle your hair. Hairspray and various hairstyling creams ensure either medium, strong or extreme hold. The best thing to do is to order immediately and see the outstanding quality of this Revlon Professional cosmetic for yourself.
The brand the stars trust
The Revlon Company, founded in 1932, originally started off with a nail polish that was extraordinary at the time. The name Revlon Professional now stands, among other things, for high-quality hair care, such as shampoos, conditioners, hair treatments, oils and hair colouring agents for every hair type. The product spectrum also includes nail polish and make-up, as well as technical gadgets, such as hairdryers, curling tongs and smoothing irons.Revlon is considered as one of the major cosmetic firms in the worlds and as a beauty brand that meets all beauty needs and requirements. This label's products have not gone unnoticed by the stars either.Whether Jessica Alba, Emma Stone, Halle Berry, Jessica Biel or Olivia Wilde - all of them swear by Revlon and trust the hair care products by this company when presenting their glamorous look on the red carpet as well.