Sensitive skin by ALCINA
The Alcina Professional cosmetic line offers tailored care for sensitive skin. These high-quality ca…
Learn more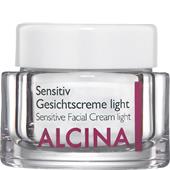 ALCINASensitive skin Sensitive face cream light
BP: €505.80* / 1000 ml
5/5 AggregateRating
Sensitive skin Skin care by ALCINA
The Alcina Professional cosmetic line offers tailored care for sensitive skin. These high-quality care products soothe irritated skin and reduce redness. For sensitive skin, it is recommended that you use a suitable care programme to support the skin optimally and provide it with an even appearance. The cosmetic products are particularly suitable for sensitive skin types that have a tendency towards redness and are sensitive to external factors as well as mechanical irritants. Treat your skin to the care it deserves and enjoy long-lasting effects. The cosmetic line from Alcina includes rich face creams and cleansing products, as well as face masks and treatments specially designed for sensitive skin.
Cleanse and care for your skin gently with the cosmetics from Alcina
The skincare range for sensitive skin contains precious ingredients which help to soothe the facial skin. The moisturising care formulas take care of the skin from the beginning during your morning facial routine and leave behind a pleasant feeling on the skin. For a gentle care routine, the range offers a soft peel without exfoliating particles. This highly effective foam improves the structure of the skin and reduces skin impurities . Afterwards, the skin can be nourished optimally with the sensitive facial cream. The product reduces feelings of tension and has a smoothing effect. For a relaxing spa-like experience, try the soothing mask from Alcina. Aside from the soothing effect, the mask also strengthens the blood vessels in the skin through phytoactives.