Posh on the Green by Atkinsons
Posh on the Green in The Contemporary Collection Series by Atkinsons is reminiscent of green, rollin…
Learn more
Posh on the Green The Contemporary Collection by Atkinsons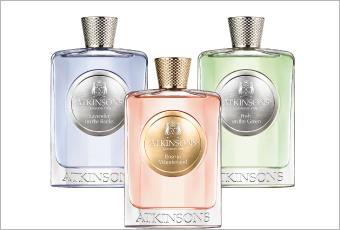 Posh on the Green in The Contemporary Collection Series by Atkinsons is reminiscent of green, rolling meadows, a well-tended golf course or simply an excursion into nature. Of course, as with all Atkinsons creations, the British origin of the perfume cannot be denied. It lays a royal, almost majestic, delicate veil of fragrance around its wearer, whether feminine or masculine. The fragrance was released in 2014 and uses a delicate green flacon with silver imprint on the front and a matching coloured stopper. The perfume is perfect for all men and women who yearn for nature, spring and blossoming landscapes all year long.
British luxury creation and practical unisex fragrance
Posh on the Green in The Contemporary Collection uses a mixture of coriander and petitgrain in its top note. In the heart note the fragrance transcends to the duo rose geranium and galbanum, until it ultimately finds a perfect finish in the base composed of cedar and vetiver. All these essences lend Posh on the Green its strong impression, its natural effect that seem at the same time to be unbelievably elegant and fresh. The Atkinsons fragrance in The Contemporary Collection is definitely an all-rounder for the entire year, which harmonised incredibly well especially in everyday life and in the office.
An unmistakable perfume from Great Britain
Those who have ever asked themselves how Wimbledon must smell in its high season will find the right answer in the Posh on the Green perfume. Various natural, slightly flowery and abundantly fresh ingredients, which unfurl their unmistakable texture straight after the first splash, are united in a total of 100 ml. This makes this fragrance a welcome complement to The Contemporary Collection Series and the entire Atkinsons assortment. The eau de parfum is not only very yielding, it is also unbelievably long-lasting at the same time.