Electric beard trimmer by BaByliss Pro
In addition to an attractive hairstyle, men also attach great importance to sophisticated beard care…
Learn more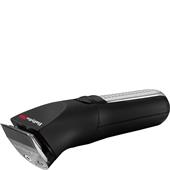 BaByliss ProElectric beard trimmer Rechargeable Trimmer
BP: €45.85* / 1 pcs.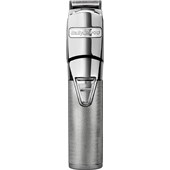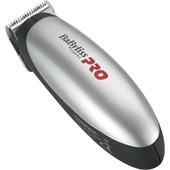 BaByliss ProElectric beard trimmer Mini Trimmer
BP: €24.35* / 1 pcs.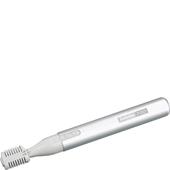 BaByliss ProElectric beard trimmer Forfex Pen Trimmer
€11.43
/ 1 pcs.
BP: €11.43* / 1 pcs.
5/5 AggregateRating
Electric beard trimmer Technical equipment by BaByliss Pro
In addition to an attractive hairstyle, men also attach great importance to sophisticated beard care, which can be implemented at home or in the professional hairdresser salon. The technology of the renowned manufacturer Babyliss, which allows the creative implementation of design ideas for beards and their sophisticated cosmetic appearance via a contemporary beard trimming machine, has established itself around the world. In addition to a thorough shave, the aids are primarily suitable for supporting or forming individual beard areas, in order to precisely differentiate them from the facial skin and lend an attractive look. Our online shop invites you to combine state-of-the-art technology with simple operation in beard care and order Babyliss brand items.
A beard trimming machine to achieve an attractive masculine look
Bringing a beard into form is not always easy with the traditional scissors or a large shaving device, the purchase of specific cutting devices with a special technology is worth it to achieve the perfect cosmetic appearance. For instance, the beard trimming machine is preferably used in the nose and lip area, in order to guarantee a precise cut and a symmetrical look there. Babyliss does of course also carry traditional hair cutting machines, which can be used just as well for the beard as in the neck area or for short haircuts. In order for this technology to be ready to hand at any time, all models are offered with handy charging stations.
Easily design hairstyle and beard with Babyliss
In addition to men wanting a sophisticated cosmetic appearance for every type of beard, Babyliss also supports men and women with further technology in the shape of high-quality hairstyling equipment. The latter can be used just as well in the private bathroom as in the professional salon and covers the entire gamut ranging from straightening irons via curling tongues to hair dryers. If you are interested in a beard trimming machine or other devices produced by the manufacturer, you will quickly find what you are looking for in our online shop We carry diverse products of well-known brands focusing on the haircut or subsequent hair care, which can be ordered simply and inexpensively online!