Pro Youthing by Declaré
The Pro Youthing cosmetics range from Declaré comprises a highly effective range of skincare product…
Learn more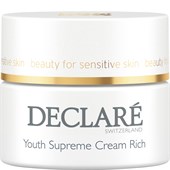 DeclaréPro Youthing Youth Supreme Cream Rich
€38.95
/ 50 ml
BP: €779.00* / 1000 ml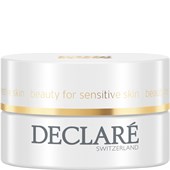 DeclaréPro Youthing Youth Supreme Eye Cream
€25.95
/ 15 ml
BP: €1,730.00* / 1000 ml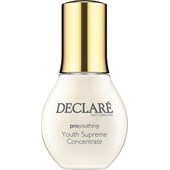 DeclaréPro Youthing Youth Supreme Concentrate
€41.95
/ 50 ml
BP: €839.00* / 1000 ml
5/5 AggregateRating
Pro Youthing Skin care by Declaré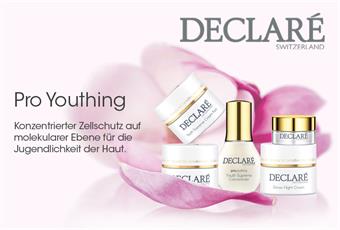 The Pro Youthing cosmetics range from Declaré comprises a highly effective range of skincare products that target the different needs of sensitive and mature skin in particular. The molecular changes of mature skin is protected by a combination of highly effective cell protection components which stimulates cell activity at the same time. The skin's youthfulness is restored and retained with regular use of Declaré's cosmetic products from the Pro Youthing skincare range.
Youthful-looking skin thanks to quality skincare products from Declaré
For the daily anti-ageing skincare regime the Swiss cosmetics company offers two rich day creams, an eye cream and the Youth Supreme Concentrate. The cosmetic products act deep inside the epidermis with precious magnolia extracts. This effectively counteracts the breakdown of the skin's elastic and collagen-based support structure. Using real silk particles, selected oils and lots of refreshing moisture, the skin is cared for and fine lines and wrinkles around eyes and mouth are softened. The skin's overall appearance is younger and more radiant. The facial skin is smooth and wonderfully soft to the touch. The Pro Youthing range is particularly suitable for more mature women.