Allergy Balance by Declaré
Facial skincare for ultra-sensitive skin. Sensitive skin tends to get irritated quickly and then lo…
Learn more!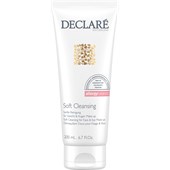 DeclaréAllergy BalanceSoft Cleansing for Face & Eye Make-up Remover
BP: €7.98* / 100 ml
Allergy Balance Skin care by Declaré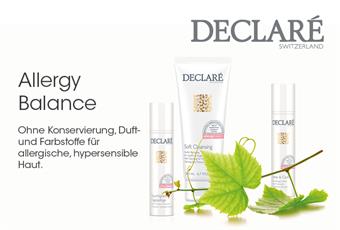 Facial skincare for ultra-sensitive skin. Sensitive skin tends to get irritated quickly and then looks out of sorts. Whether it is caused by genetic predisposition, environmental factors, a hectic lifestyle or stress, the skin's reactions are more obvious to the eye. Such a skin type needs more rest, more protection and a more targeted care regime. The cosmetic solution for allergy-prone skin - stress, environmental influences and a genetic predisposition are increasingly causing skin intolerances in sensitive skin. The skincare line Allergy Balance from Declaré soothes the skin, prevents allergic reactions and strengthens the skin's own barrier defences.