Nudit by Helena Rubinstein
For many women in this country, Helena Rubinstein is the epitome of high quality cosmetic and skinca…
Learn more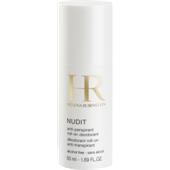 Helena RubinsteinNudit Nudit Deodorant Roll-On
€17.95
/ 50 ml
BP: €359.00* / 1 l
4,5/5 AggregateRating
Nudit Skin care by Helena Rubinstein
For many women in this country, Helena Rubinstein is the epitome of high quality cosmetic and skincare products, which have been refined and recreated in new editions over several decades. With Nudit, the world-famous brand offers an anti-perspirant, thanks to which the skincare and cosmetic products can be complemented by a pleasant fragrance. With an effect which lasts for up to 48 hours, the Roll-On in the Nudit range ensures a fresh scent and allays the wearer's fears of undesirable sweating.
Make your way through life with Helena Rubinstein, well-groomed and beautiful
. The skincare in the Nudit range does not contain alcohol, so that it does not irritate the sensitive skin under the arms. Stains on clothing as with other cosmetic products or classical deodorants need not be feared. Of course, Helena Rubinstein offers the perfect complements to this high-quality skincare product in our online shop, as you will see yourself with a browse through our numerous categories If you are in search of cosmetics which meet the highest of demands and enhance radiant beauty, the global brand will also meet your expectations!