Mediterra Lemon Garden by Hildegard Braukmann
Included in the women's perfume range by Hildegard Braukmann is the perfume Mediterra Lemon Garden. …
Learn more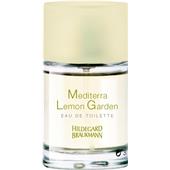 Hildegard BraukmannMediterra Lemon Garden Eau de Toilette Spray
BP: €29.83* / 100 ml
Mediterra Lemon Garden Women's fragrances by Hildegard Braukmann
Included in the women's perfume range by Hildegard Braukmann is the perfume Mediterra Lemon Garden. Bitter orange and citrus from sunny Sicily characterise the fruity top-notes of this scent. Aromas of Tuscan cypress define the woody heart of the composition, while the base contributes a sensual bouquet of Ylang Ylang and sweet jasmine. Thus the creation invites you to a Mediterranean fantasy which is both refreshing and exciting.
Sophisticated hints and fresh aromas
The perfume Mediterra Lemon Garden perfectly fits the philosophy of Hildegard Braukmann with its sophisticated charisma. For over 50 years this brand from Burgwedel has relied on the power of herbs for nourishing and regenerative cosmetics. The women's fragrances by this brand complete the product line with a stylish hint, containing the sensuality of nature in a flaçon.