Skin Energy by Juvena
The Swiss institution Juvena has developed the Skin Energy range to provide special moisturising car…
Learn more
5/5 AggregateRating
Skin Energy Skin care by Juvena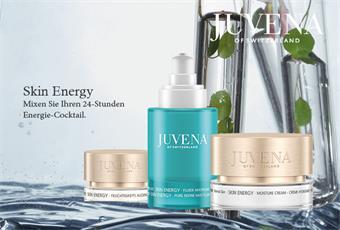 The Swiss institution Juvena has developed the Skin Energy range to provide special moisturising care for your facial skin. This innovative range of care products, which contains a special 24-hour Energy Cocktail, reflects the company's experience gained from more than 60 years of research. By using the rich Eye and Face Creams from this innovative range of care products, all of which have been specially developed for various skin types, your skin is able to regain what it has lost over the course of time.
Moisturising care for a youthful and radiant complexion - Skin Energy
The Face Creams for normal to dry skin and dry to very dry skin contain a complex made up of herbal active ingredients that are combined with the unique SkinNova SC Technology. Using this facial care product on a regular basis will result in a youthful and radiant complexion and wonderfully nourished skin. The rich Gels and Creams from this range of cosmetic products by Juvena are applied to cleansed facial skin and massaged in mornings and evenings. If the Face Cream or Gel is applied overnight, then the premium ingredients will work in the same way as a course of treatment. Skin Energy from the House of Juvena is also ideal as a foundation for your daily make-up.