Anti-ageing Facial care by Korres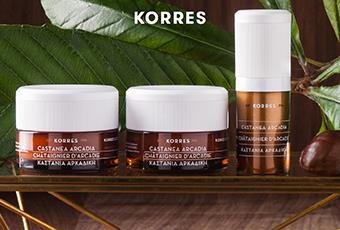 Signs of ageing in the face don't have to be simply accepted. The effective anti-ageing care products from the House of Korres supply the remedy. The Greek brand uses proven findings from researchto create facial care products that alleviate existing signs of ageing on the one hand and prevent further ageing effects on the other hand. The cosmetics are broken down into various individual products and entire sets that make perfect gifts for women as well. The gift sets contain various products, usually two, which are expediently combined with each other.
Integral facial care against signs of ageing
Anti-ageing is predominantly achieved by abundant moisture and numerous nutrients, which is why the Korres products fall back on many natural essences and often include a sun protection factor that prevents very sensitive areas from drying out too quickly. The cosmetics can be used in the face by all skin types. The optical design of the individual products depends on the respective product series, the Quercetin & Oak Series comes in a classic black design, for example, whereas Magnolia Bark is advancing into an eye-catcher due to its beige and brown tones. The creams should ideally be used daily to achieve visible effects.