White Tea, Bergamot, Freesia by Korres
The women's perfumes of the cosmetic brand are persuasive due to their friendly appearance, although…
Learn more!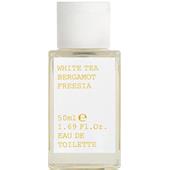 White Tea, Bergamot, Freesia Fragrances by Korres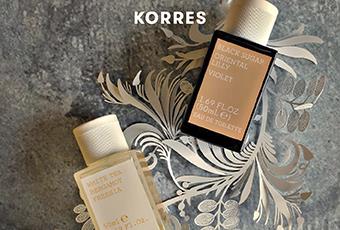 The women's perfumes of the cosmetic brand are persuasive due to their friendly appearance, although the brand is quite capable of adding individual exotic ingredients. Wonderful fragrances not only make a good impression, they are also a reflection of the prominent features of a woman. They can radiate self-confidence, have a cosmopolitan effect or simply be an allegory for gentle seduction. Creating playful accents is child's play with the right perfume as well, although women need to specifically ensure that the selected fragrance underscores their own look and type. Subtle fragrances by Korres are perfect for the office.
A wonderful aura thanks to high-quality fragrances
Qualitatively top-class women's fragrances are distinguished by their diverse selection of ingredients, which not only create individual accords, they also perfectly align them with the overall fragrance. Just two or three splashes of a perfume from the House of Korres are enough to create a pleasantly subtle and yet still effective fragrance for several hours. Possible fragrances, for example, are the natural White Tea, the mysterious Aeonia or the wonderfully seductive Iris.