Women by Parfums de Marly
Parfums de Marly offers women's fragrances of royal composition and purity in an individual assortm…
Learn more
Women Women's fragrances by Parfums de Marly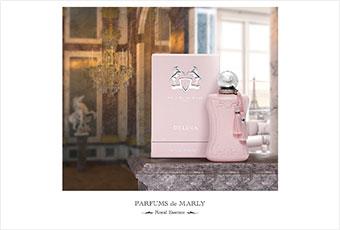 Parfums de Marly offers women's fragrances of royal composition and purity in an individual assortment. The seductive women's fragrances come with very varied ingredients and in beautifully designed flacons, which are very noble and elegant in appearance and not just at first glance. The French brand offers a wide-ranging fragrance assortment for women, which contains very light and summery fragrances as well as heavy women's fragrances permeated by oud, for example. The design of every perfume in the line is oriented towards the famous King Ludwig XV., who developed a special love of perfumes and horses at the French royal court.Another reason why the logo of Parfums de Marly consists of two galloping horses, which are not just impressive due to their majestic stance. The French perfume house offers a fine selection of women's fragrances for women, all of which come beautifully adorned and in curved flacons with gold accents. An eye-catcher on the commode or in the bathroom is thus guaranteed.
Royal perfume for sophisticated women
The royal creations include, for example, Meliora Parfum, Safanad or simply Darcy. Overall, the women's fragrances differ primarily due to their intensity and, of course, the materials added to the mix for the overall product. Parfums de Marly attaches particularly great importance to multi-layered aromas with a pleasant transition between top note and heart note, in order to ensure a subtle but still effective pollination. Feminine women's fragrances by Parfums de Marly are appropriate in every season and with every popular look.If you prefer subtle and really royal fragrances, which resort to a fine and rare selection of ingredients, this brand is the perfect choice for you. Allow yourself to be impressed by the fine selection of women's fragrances and make room for a new favourite in the bathroom and on your well-ordered cosmetic commode.