Prada Candy Florale Women's fragrances by Prada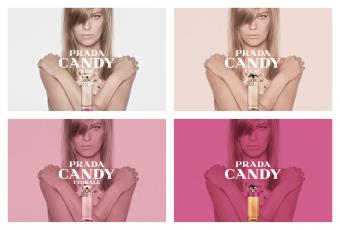 The Candy Florale fragrance range from Prada combines floral notes with skilful femininity. Like a seductive sweetness, the range puts its faith in very versatile and sweet notes which are sleekly rounded off and at the same time perfect by the floral notes. The fragrance itself is a new product for 2014 and was designed by perfumer Daniela Andrier. It comes in a pink-coloured flaçon with golden cap and overall has a longish, very elegant-looking shape. The Prada signature is printed on the front in golden lettering. The face of the advertising campaign is French actress Léa Seydoux.
Women's fragrances, as beautiful and seductive as your favourite sweets
The Candy Florale perfume puts its faith in a minimalistic conception in order to let each individual ingredient work really intensively. In the prelude, that is the top notes, sweet limoncello sorbet is used whilst the core notes use peonies. The base is formed of proven women's scents which are surrounded in a sweet frame. Benzoin meets honey, sweet caramel and finally a hint of musk. This creates a heavenly fragrance that appears very sweet and friendly in all stages. The fragrance is ideal for spring and summer when the ""tasty"" fragrance notes play out their strengths skilfully.
Pure luxury thanks to wonderful women's fragrances
The Candy Florale perfume from Prada is a sign of pure femininity - from the appearance of the flaçon to the fragrance notes. This is what its biggest strength is, since in this way it honours above all women who like wearing feminine nuances on their skin and making a show of their femininity. The luxurious and very elegant composition highlights this impression, whilst the perfume will also be a real eye-catcher in any bathroom or make-up cabinet at the same time. The fragrance is available in either a 30ml, 50ml or 80ml variant.
Prada Candy Florale by Prada