Oud Pour Lui by Alyssa Ashley
Men's fragrances like
Oud Pour Lui
by Alyssa Ashley appeal thanks to their distinctive aromas…
Learn more!
Oud Pour Lui Men's fragrances by Alyssa Ashley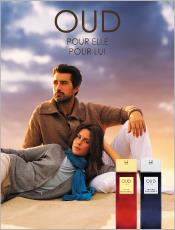 Men's fragrances like Oud Pour Lui by Alyssa Ashley appeal thanks to their distinctive aromas. Our range includes a number of different products, all bearing the same scent of the Eau de Parfum. Just a single spray produces a voluminous and distinctly masculine aura that inspires and excites. Whether you use it during your free time, at work or for a special occasion, this fragrance is the perfect way to draw attention to your masculine side!
A fragrance with a male signature
Men's fragrances like Oud Pour Lui are both intense and discrete. The base of the fragrance is made up of essences of lemon, jasmine, saffron, sandalwood, Atlas cedar and vetiver. Siam benzoin and amber help to create an easily discernible undertone. Let yourself be inspired by an aromatic fragrance by Alyssa Ashley and surround yourself with a subtle hint of masculinity in your everyday life!