Scented candles by Atkinsons
The noble scented candles of the British ""Atkinsons"" brand are convincing due to their simple exte…
Learn more!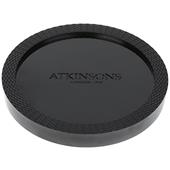 Scented candles Home Collection by Atkinsons
The noble scented candles of the British ""Atkinsons"" brand are convincing due to their simple exterior and intensive, seemingly natural fragrances , which are disseminated equally throughout the entire room as soon the dock is lit. The Home Collection by the tradition-steeped brand supplies candles with practical black plates that are in direct contrast to the light beige of the actual candles. Like the perfume, the candles also exude the intensive and exciting fragrances of the brand, which are perfect for every interior and incorporate a pleasant touch of tradition.
Fragrances for your own home
The practical scented candles come in various fragrance notes, including, for instance, very floral and fruity nuances, which ensure an inviting and friendly atmosphere in your apartment or house. The yielding candles have a long burning time, thus allowing them to be repeatedly lit. This circumstance also guarantees that several rooms can be perfumed thanks to the candle(s), in that the candles are simply placed in a different room after a certain burning time. The fragrance intensity can also be regulated at the same time via the burning time of the candle.