Ayerogen by Ayer
The right care for the sensitive facial skin with cosmetics optimally coordinated with each other an…
Learn more!
Ayerogen Skin care by Ayer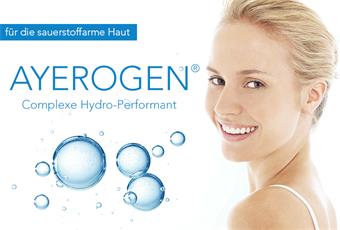 The right care for the sensitive facial skin with cosmetics optimally coordinated with each other and to satisfy the needs of the skin is the basis of every make-up.
Ayer Ayerogen
is a care series, which with 2 in 1 Cleanser, Day Cream and Night Cream offers all the care facial skin needs to preserve its freshness and delicacy.The 2 in 1 Cleanser in the Ayer Ayerogen Series cleans and refreshes the skin with valuable fruit acids that gently but reliably remove residual make-up and dirt. The Cleanser can also be applied to the sensitive area around the eyes and supplies moisture. The Night Cream in this care series promotes the overnight regeneration of facial skin by various oils and vitamins, which stimulate cell regeneration. By morning the skin then has a youthful freshness and vigour in readiness for the daily make-up and cosmetic routine. A matching Day Cream for the morning care is also included, which lends the skin the extra portion of energy for a recuperated start to everyday life.