An Urban Original 2 Men Men's fragrances by Bench.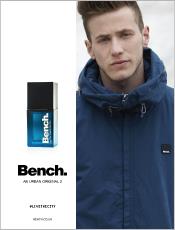 More and more men expect a sophisticated and up-scale flair from their perfume: the international trend-setting branch Bench. responds to this and offers the ideal fragrance with An Urban Original 2 Men. Over the last few years Bench. succeeded in enhancing the range of classic men's fragrances by word-famous brands; whereby An Urban Original 2 Men is Bench.'s leading product line for men. Alongside their slightly tangy and typically masculine note, the fragrances by Bench. captivate with their fresh character which appeals to nearly every man. Our online shop relies on the entire range of quality articles by Bench. and invites men and women alike to place their orders.
Premium fragrances with a contemporary flair.
The perfume An Urban Original 2 Men lives up to its name and targets the preferences of modern men in an urban environment. This makes the men's fragrances by Bench. extremely versatile and the ideal companion at work, leisure time and special occasions alike. With its stylish blue flaçon the perfume makes a good impression when you are on the go and convenient for freshing up on trips. The flaçon is available in a 30 or 50 ml size, is extremely economical and lets you enjoy this special fragrance time and again.
Rely on An Urban Original 2 Men in the shower.
If you love the men's fragrances by Bench. and want to start the day with a fresh feeling, why not try An Urban Original 2 Men as a shower gel! Like all other fragrances this product line for men offers a range of different products and will become your fragrant everyday companion. After discovering our terms for shower gel or eau de toilette spray by Bench. this perfume will become particularly appealing for quality-conscious men. Of course we also offer other men's fragrances by renowned brands offering you exceptional fragrance experiences at these attractive prices.
An Urban Original 2 Men by Bench.