Bench perfume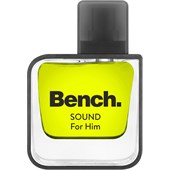 Bench.Sound for Him Eau de Toilette Spray
€11.95
/ 30 ml
BP: €398.33* / 1 l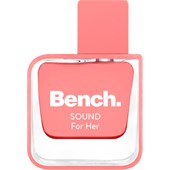 Bench.Sound for Her Eau de Toilette Spray
€11.95
/ 30 ml
BP: €398.33* / 1 l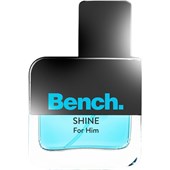 Bench.Shine For Him Eau de Toilette Spray
€9.95
/ 30 ml
BP: €331.67* / 1 l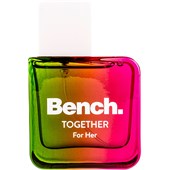 Bench.Together For Her Eau de Toilette Spray
€9.95
/ 30 ml
BP: €331.67* / 1 l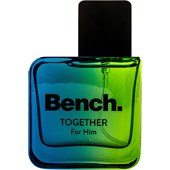 Bench.Together for Him Eau de Toilette Spray
€9.95
/ 30 ml
BP: €331.67* / 1 l
5/5 AggregateRating
Bench perfume: Urban fragrances that exude joie de vivre, individuality and light-heartedness
Bench is a brand that has been inspiring people with casual urban streetwear for more than 30 years. The fashion company from Manchester draws its inspiration from big-city culture and counterculture. Originally a BMX and skateboarding scene brand with a cool, rebellious image, Bench has become a trendy label for casual wear with a feel-good character. The fashion boasts simple, comfortable styles and eye-catching colours. Bench perfumes bring out the wearer's confident style with their unique perfume notes.
Bench fragrance: perfumes as casual as your style
Bench has been capturing the lifestyle of trendsetters and young urbanites in its casual fashion since 1989. Today, it is still a byword for trendy, comfortable streetwear. The label owes its cult status to prominent VIPs from the music industry, who introduced the lifestyle brand to a global audience. The founders are always open to new influences. Sustainability is high on their agenda and they embrace social responsibility.
Bench perfumes evoke the urban attitude to life and the vibrant joie de vivre of young people and trendsetters from the world's most important metropolises. They highlight the carefree lifestyle of the big city and perfectly complement the brand's casual looks. The fragrances are ideal for young, sporty, cosmopolitan characters who ooze sheer joie de vivre while maintaining a sense of individuality.
The floral, lively or slightly spicy perfumes by Bench express your personality. Stylish and colourful, they are packaged in simple flacons. The cool, urban designs are inspired by the street style of the big city. Each spritz of the precious fragrances adds an energising aura marked by the courage of individuality, joie de vivre and youthful light-heartedness. The Bench Eau de Toilette is available for men and women:
Bench women's fragrances: the women's fragrances exude a feminine, powerful character. They are suitable for all kinds of occasions. They are packaged in sleek, colour-gradient flacons that stand out on the perfume shelf. Some are sparkling and seductive, while others are feminine and playful, underlining the personality of the confident, stylish city woman. The creations are understated, exude lightness and enhance the grace and femininity of those who wear them.
Bench men's fragrances: Floral, sporty notes meet refreshingly tart, spicy base notes. Attractive, effervescent and daring at the same time. The subtle compositions are inspired by fine perfume classics, but have a youthful, soft aura of their own. With their sophisticated, masculine charm and light freshness, they are perfect for strong personalities. They are especially suitable for men who want to show off their sporty, youthful side.
The label's classic fragrance is a floral, tangy-fruity composition of cherry, raspberry and plum, paired with a floral heart of freesia, exotic orchid and iris. Rounded off with a touch of vanilla bean, musk and soft amber, this fragrance is sure to please the self-confident woman who likes to be guided by her intuition. The male counterpart has a seductive oriental character. The fragrance combines sparkling citrus notes, spicy black pepper and the warmth of precious woods with a hint of sage and amber.
Buy Bench perfume: Order Eau de Toilette by Bench at parfumdreams
Parfumdreams offers a wide range of popular fragrance classics and new releases from the streetwear brand. Bench fragrances underline personality and perfectly complement the label's casual looks. They allow modern urbanites to look stylish and are particularly suitable for wearers with a self-confident, life-affirming lifestyle.