Sun by DADO SENS
DADO SENS Sun is a range of care and cosmetic products that has been developed to cater for the spec…
Learn more
5/5 AggregateRating
Sun Skin care by DADO SENS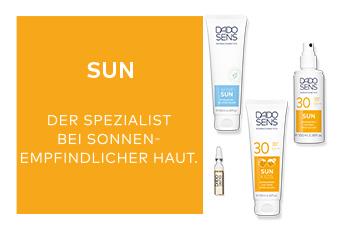 DADO SENS Sun is a range of care and cosmetic products that has been developed to cater for the specific needs of adults and children. The special sunscreen creams, gels and lotions can all be used on dry, sensitive and allergy-prone skin. The various care products are suitable for men, women and children with neurodermatitis, rosacea and psoriasis. The skin is well protected from sun allergies and polymorphic light eruption. An SPF adjusted in line with the product protects against harmful UVA and UVB rays.
Dermatologically tested sunscreen for problematic and sensitive skin
These premium care products are dermatologically tested and contain a valuable natural anti-ageing active ingredient complex. The special formula, which contains Ectoin, flavonoid and Vitamin E, supports the regeneration of damaged and sensitive skin. Panthenol, allantoin and squalane are all contained in the various Sun products in this range of cosmetics, helping to nourish and soothe the skin. DADO SENS uses almond oil, jojoba oil and shea butter from West Africa in this range of cosmetic products to care for delicate and sensitive children's skin. The specially developed cell protection SymHelios help combat harmful environmental effects. The additives contained in the DADO SENS Sun products are naturally produced and are derived from certified organic cultivation.