Treffpunkt 8 Uhr by J.F. Schwarzlose Berlin
Unusual unisex fragrances are the hallmark of the range by perfume manufacturer J.F. Schwarzlose Ber…
Learn more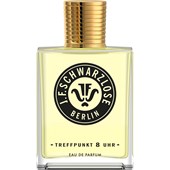 J.F. Schwarzlose BerlinTreffpunkt 8 Uhr Eau de Parfum Spray
BP: €3,295.00* / 1000 ml
5/5 AggregateRating
Treffpunkt 8 Uhr Unisex fragrances by J.F. Schwarzlose Berlin
Unusual unisex fragrances are the hallmark of the range by perfume manufacturer J.F. Schwarzlose Berlin. The time-honoured brand can look back on a long tradition. Founded as far back as 1856, it has seen many a fashion or fad has passed it by. Today, the company delights with modern interpretations of its historical fragrances. The perfume Treffpunkt 8 Uhr first hit the shelves in 1900; since 2012, a contemporary version of the original perfume has been available and it still contains many of the elements of the historical formula.
Unisex perfumes meet modern tastes
Treffpunkt 8 Uhr by J.F. Schwarzlose Berlin is a composition full of contrasts – just as dazzling and extravagant as the city of Berlin itself. The perfume combines woody, spicy and fruity nuances in a harmonious whole. Ginger and a mango chord form the opening notes: whilst the mango beguiles with its intense fruity, exotic aroma, the sharpness of the ginger represents an unusual contrast. In the middle note, the gentle, floral scent of meadow saffron unfurls, underpinned with aromatic sage. Finally, the bitter and somewhat woody aroma of vetiver comes through more and more in the base note, giving the perfume its presence and character.Treffpunkt 8 Uhr plays with contrasts: Bitter and sweet, strong and gentle notes combine for an extraordinary fragrance experience. The perfume has a high recognition value and – like all unisex perfumes by J.F. Schwarzlose Berlin – is suitable for both perfume connoisseurs and modern individualists alike.