Rausch by J.F. Schwarzlose Berlin
Creative unisex perfumes are the trademark of the perfume manufacturer J.F. Schwarzlose Berlin. The…
Learn more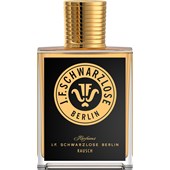 J.F. Schwarzlose BerlinRausch Eau de Parfum Spray
BP: €3,295.00* / 1000 ml
5/5 AggregateRating
Rausch Unisex fragrances by J.F. Schwarzlose Berlin
Creative unisex perfumes are the trademark of the perfume manufacturer J.F. Schwarzlose Berlin. The historic company was resurrected just a few years ago. In addition to modern interpretations of classic fragrances, the range also contains innovative new creations. The first of these new creations is the perfume Rausch. With its woody, spicy and smoky notes, the fragrance captures the extravagant atmosphere of the Berlin nightlife. At the same time it refers with its sensuous, intense and somewhat crazy character to the wild 1920s. This is a fragrance for experts, connoisseurs and individualists and unfolds its enchanting effects for special occasions.
An ecstatic perfume experience
Many unisex fragrances are light and fresh. Rausch, on the other hand, is extravagant and hypnotic. Red pepper and sandalwood in the top note ensures a thrilling and intense start that imparts warmth and sensuousness. This impression intensifies as soon as the vanilla and patchouli in the middle note unfurl. The culmination is in a strong oud note in the base, reinforced by amber. Oud, which is extracted from the resin of the tropical agar tree, has an intensively woody and spicy scent and has an alluring almost aphrodisiac character. Its aroma forms a distinctive counterpart to the sweetness of vanilla and amber.The perfume Rausch (meaning "intoxication") lives up to its name: It is a powerful, self-confident fragrance that will put the wearer centre stage. With Rausch, J.F. Schwarzlose Berlin has proven that unisex fragrances can be wonderfully sensual and thrillingly crazy.