Trance by J.F. Schwarzlose Berlin
J.F. Schwarzlose Berlin - Trance
Unisex fragrances such as the perfume
Trance by J.F. … Learn more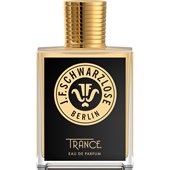 J.F. Schwarzlose BerlinTrance Eau de Parfum Spray
BP: €3,295.00* / 1000 ml
5/5 AggregateRating
Trance Unisex fragrances by J.F. Schwarzlose Berlin
J.F. Schwarzlose Berlin - Trance

Unisex fragrances such as the perfume Trance by J.F. Schwarzlose Berlin were conceived for real perfume lovers. The wearer, whether male or female, loves the game of ambivalence. Tradition meets modernity, innocence meets sinful desires. Trance is given its opening, gentle sensuousness with virginal Turkish rose. Then, thanks to a cascade of blossoms and spices, it develops into a noticeably more intense perfume. The special kick: Absinthe and pure rock rose stir the senses like drops of a secret essence. Trance plays with fire. It is a fascinatingly ambiguous perfume. You can't ask more from a unisex perfume.
Popular unisex fragrances from J.F. Schwarzlose Berlin
When a time-honoured company dares to take a step into the future, it creates perfumes that are note part of the mainstream but rather dance to their own beat. The company, which was founded in 1856 as the chemist's shop of Joachim Friedrich Schwarzlose, enjoyed worldwide fame in its heyday. The company's perfumes made their way as far the Forbidden City of the Emperor's palace in Beijing. A high concentration of fine perfume oils for the basis of the popular perfumes, today just as it was then. Since 2012, J.F. Schwarzlose Berlin has been producing unisex perfumes that combine the old traditions with extravagance and creativity. The fragrances are recreations of the perfumes of the Roaring Twenties. They were and are dazzlingly self-confident and stunningly authentic. A perfume like Trance of course comes in a high-class design. The distinctive glass bottle carried the stamped brand logo just as proudly as its historical predecessors.