Discipline Curl Idéal by Kérastase
The Discipline beauty range by French luxury brand Kérastase includes a range of innovative hair car…
Learn more!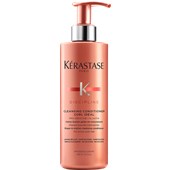 Discipline Curl Idéal Hair care by Kérastase
The Discipline beauty range by French luxury brand Kérastase includes a range of innovative hair care products that discipline unruly hair while maintaining its natural movement. This nourishing product family restores flat and rigid hair, tames and smoothes frizzy hair and lends fine, normal and even thick hair harmonic and natural movement. The care series offers discipline and movement and helps you create the perfect hairstyle quickly and easily. The hair flows and the hair surface structure is glossy, bouncy, smooth and restful instead of frizzy. The kind of beautiful hair every woman dreams of!
Main ingredient in the care range:
All of the products in the Kérastase Discipline hair care range are based on the innovative, powerful Morpho-Keratin complex, which is made up of active and highly effective ingredients. Among others, these include a high concentration of powerful keratins, which nurse and discipline the hair back to health, smooth the hair fibres, control movement and improve flow. Ceramides strengthen the hair fibres while silk proteins set the hair in harmonious motion. Special water-resistant polymers offer long-lasting styling.
Care products in the Kérastase Discipline range:
The Discipline hair care range includes effective Kérastase beauty products sorted according to a three-step ritual: Bathe, Treat, Texturise. * Bain Fluidéaliste: this lotion is like a shampoo. The hair is gently and thoroughly cleansed. The shampoo is suitable for all undisciplined, unruly hair types.* Fondant Fluidéaliste: this is a fast-acting hair care product with anti-frizz effect for fine and normal hair, which coats the surface of the hair fibres with a protective film and delivers flowing motion. The hair restores its bounce and gains a fresh, healthy shine.* Maskératine: this care product with anti-frizz effect was developed specially for thick hair. With a high concentration of nourishing ingredients, it restores the hair fibres, harmonises the hair lengths and ends and delivers flowing, controlled hair that retains its natural fullness.* Fluidissime: this spray treatment with anti-frizz and anti-humidity effect finishes the hair and offers heat protection. The cosmetic protects against frizz, static charge and is ideally suited to heat styling. The morpho-keratines are enriched with xylose. * Keratin Thermique: this cosmetic with anti-frizz and anti-humidity effect protects, finishes and cares for hard-to-control hair when blow-drying. It instantly rebuilds the hair. This hair care product contains a Glaçage Thermo Seal, auto-reticular polymers, morpho-keratins and xylose. Keratin Thermique protects unruly hair against the impacts of drying, smoothes the hair fibres, seals the hair with heat-activated nourishing ingredients and delivers elegant, mirror shine.* Soin N°1: this special care product makes combing and brushing the hair easier. It delivers extreme softness, optimal control, flowing motion, seals the hair and creates the conditions for the hair to rebuild itself. * Soin N°2: this Kérastase cosmetic from the Discipline range is a professional keratin care product that instantly rebuilds the hair. Rebellious hair in particular looks beautifully soft and glossy, is easy to untangle and comb and is protected against external influences.