Peroxides by Wella
For several decades,
peroxide
has been the agent of choice when it comes to dyeing hair and g…
Learn more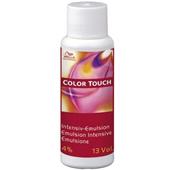 WellaPeroxides Color Touch Intensive-Emulsion 4%
€2.26
/ 60 ml
BP: €37.67* / 1000 ml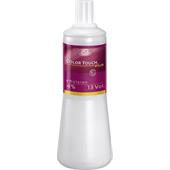 WellaPeroxides Color Touch Plus Emulsion
€13.24
/ 1000 ml
BP: €13.24* / 1000 ml
5/5 AggregateRating
Peroxides Professionals by Wella
For several decades, peroxide has been the agent of choice when it comes to dyeing hair and giving it a brilliant colour which will last and be loved for ages. The international brand Wella also believes in the power of the chemical formula of peroxide, and it's available as a hair product in the Professionals range. The main purpose of this chemical is hair lightening, and with peroxide, Wella gives you the tools to give your hair a natural blonde colour effect. This product can also be applied to darker hair in order to give it some fantastic streaks.
Get blonde or lighter hair with peroxide
The Professionals range by Wella gets its name for a reason - many professional salons and hairdressers believe in the quality of the brand, and make use of these products in their everyday work. Of course, just like Wella's many other different haircare products, this product is suitable for styling your own hair in the privacy of your own home, and gives you the chance to effortlessly style your hair like a professional. Whether you're at home or running your own hair salon - you can order products from Wella's Professionals range and lots of other ranges at bargain prices, including hairdryers, straightening irons, and other high-class hairdressing tools.