Hydration Facial care by Korres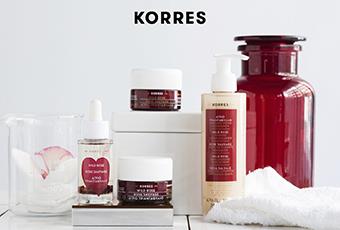 The Hydration Facial Care Line of the Greek Institute Korres Natural Products supplies women's and men's skin with abundant moisture and gives it important nutrients and vitamins. When manufacturing the cosmetic line, the tradition-steeped institute uses oils and essences naturally acquired from cress, wild rose and pomegranate in a special formula. In part, the creams of the high-quality facial care line contain a special 24-hour formula, which regulates the moisture balance of the sensitive facial skin. The cells and reservoirs are filled with moisture and re-evolved, as required.
Nourishing moisturising creams for the daily facial care - Hydration
The creams are free of mineral oils, parabens and colourants and thus ideally suitable for sensitive skin types as well. As with all Korres products, the creams in the Hydration Cosmetic Line were tested for their tolerability prior to market launch. Complicated and extensive tests establish that the creams in the cosmetic line are suitable for sensitive skin. The Watercress Ultra Nourishing Moisturising Cream, Wild Rose 24-hour Moisturising Brightening Cream and Pomegranate Moisturising Cream Gel from the House of Korres are suitable for women and men with sensitive skin and can be used daily.