Prevent by SBT cell identical care
With the Prevent product range, the SBT Sensitive Biology Therapy manufacturer presents a face care …
Learn more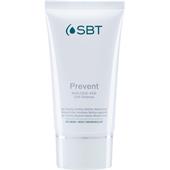 SBT cell identical carePrevent Age-Slowing Intensive Mask
BP: €679.33* / 1000 ml
Prevent Facial care by SBT cell identical care
With the Prevent product range, the SBT Sensitive Biology Therapy manufacturer presents a face care product which slows down the skin ageing process and the build up of fine lines and wrinkles. The process of premature skin ageing is particularly influenced by the negative effect of UV rays, skin irritation and stress. The skin care product in this product range uses skin-identical ingredients and bio-mimetic active ingredients to counteract this process, combat free radicals with naturals resources, build up cell protection against external attacks and promote the skin's regeneration processes. The focus of this range is on the cell-identical Cell Life Youther anti-ageing caring active ingredient. This cosmetics range offers several special care products which are aimed at the various demands of skin
Prevent from SBT Sensitive Biology Therapy - Characteristics of the key ingredient:
The key ingredients in the skincare range is the Cell Life Youther caring active ingredient which is a skin-identical, organic cell nourishing solution which contains 55 essential ingredients from various nutrient groups. The highly effective, organic cell nourishing solution is used in the formulas and composition of the cosmetics products from SBT Sensitive Biology Therapy instead of water. This means the body absorbs the ingredients better and more intensively and makes these suitable for even sensitive skin, since the active ingredients are very kind to skin, unlike foreign substances. The ingredients contained in the cell nourishing solution comes primarily from the nutrient groups of trace elements, minerals, vitamins, amino acids and anti-oxidants. The result of this cosmetic is calmed and nourished skin on your face, up to 100 per cent more intense cell regeneration, improved skin structure, and protected, younger looking, healthy and beautiful skin
Products in the Prevent range:
The Prevent care product range from SBT Sensitive Biology Therapy includes the following cosmetics products:* Age-Slowing Creme Rich, face care to combat lines and wrinkles.* Age-Slowing Cream Light, face care with a light consistency to fight lines and wrinkles.* Multi-Protection SPF 30+, a caring day cream with sun protection that protects against sunburn and combats the build up of liver spots.* Age-Slowing Intensive Mask, a creamy face care mask that provides intensive care and has a significant, skin-rejuvenating effect when used as a night cream.* Eyedentical Age-Slowing Eye Cream, an eye cream with a light consistency that cares for and treats stressed out parts around the eyes.