Sensi-Aktiv by SBT cell identical care
Sensi-Aktiv from the SBT Sensitive Biology Therapy face care range is a cosmetic that gently cleanse…
Learn more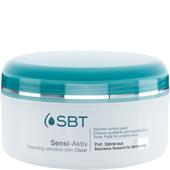 SBT cell identical careSensi-Aktiv Toner Pads
€28.80
/ 40 pcs.
BP: €0.72* / 1 pcs.
5/5 AggregateRating
Sensi-Aktiv Facial care by SBT cell identical care
Sensi-Aktiv from the SBT Sensitive Biology Therapy face care range is a cosmetic that gently cleanses sensitive and impure skin. In order to get greasy skin subject to impurities under control, regular cleansing of the face mornings and evenings is indispensable. The cosmetics manufacturer SBT has developed Sensi-Aktiv for cleansing impure, sensitive skin. The Toner Pads are used instead of a facial tonic. As a cell-mimetic facial cleanser, the product cleanses skin in a way that corresponds to the natural structure of the cells. The result: even sensitive skin is barely stressed when cleaning your face. The formula, with allantoin and salicylic acid, calms skin, has a mild disinfectant effect and soothes red patches.
Organic active ingredients for naturally beautiful skin
55 organic ingredients are contained in the SBT Sensitive Biology Therapy face care product. The result is cosmetics products that are almost identical to skin. With regular use, skin is calmed and feels soft and well cared for. At the same time, nutritious active ingredients ensure an anti-ageing effect. The cell-regulating Sensi-Aktiv Pads from the SBT Sensitive Biology Therapy face care range are used after cleaning your face with a wash gel or cleansing milk. The best results are achieved if you initially wash your face deeply with a Cleansing Oil and then treat all affected areas with a Toner Pad. The cosmetics product is not suitable for children under three years of age.