Benefiance NutriPerfect Facial care by Shiseido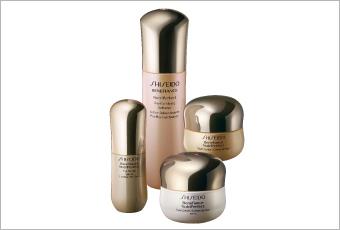 Benefiance NutriPerfect by Shiseido is a facial care series for women who attach great importance to high-quality care products in the selection of their cosmetics. The rich creams and serums in the care series contain a powerful cocktail of nutrients and active agents, which have been specifically developed for mature skin. The outstanding anti-ageing properties of the Benefiance NutriPerfect Products combat hormone-related changes to the skin, alleviate wrinkles in the areas around the mouth and eyes and supply the facial skin with abundant moisture.
Shiseido care products for the daily facial care
Shiseido relies on advanced nutrient technology in the manufacture of the facial care products. In the event of daily use, the facial skin becomes resilient and and rapidly recovers from damage caused by UV rays and stress-related dryness. The Carnosine DP Anti-Ageing Concept strengthens the skin's defence mechanism against free radicals, activates the cells' powers of recollection and promotes the skin's own collagen production. The care products in the Benefiance NutriPerfect Cosmetic Series are suitable for mature, dry and normal skin types and can be used daily.