Eudermine Facial care by Shiseido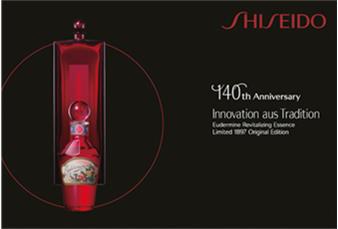 An effective make-up works best on glowing fresh skin, which is why special importance is attached to facial care in cosmetics.
Shiseido Eudermine is a moisturising care product for normal to dry skin
which, thanks to a special formula, supplies the skin with just the right amount of moisture it needs to appear smoother and healthier - and that after just a few applications.The powerful essence not only regulates the moisture balance, it also promotes the skin's regeneration, by reducing superfluous keratin gently and naturally. The subtle, pleasant fragrance has a relaxing effect and makes using Shiseido Eudermine a treat for the senses. Oily films are avoided thanks to rapid, easy absorption and the skin becomes more delicate, more regular and more radiant with every application - the ideal natural facial care for radiant styling that impresses and is not forgotten.