Hand care by ARTDECO
By using
Artdeco's
hand cream, you can benefit from a product that is well-known and indeed p…
Learn more!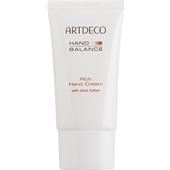 Hand care Skin care by ARTDECO
By using Artdeco's hand cream, you can benefit from a product that is well-known and indeed proven too. The hand cream is specially adapted to the specificities of problematic skin types. The natural herbal active ingredients have a calming and cleansing effect on your skin. Your skin is then protected and becomes more resistant.
Everyday quality
Anyone who has already used Artdeco's products will know how effective they are. The cream provides your skin with moisture, making it feel extremely soft and supple. Given that the care products absorb quickly into your skin, this ensures there are no unpleasant cream residues left behind. Premium ingredients such as urea help to build up your skin layers. Dry skin areas become soft and supple, making your skin look young again. External environmental influences and free radicals are blocked thanks to the addition of Vitamin E. Come and try out the unique effect of the hand cream for yourself!