Beauty Before Age by Ahava
After the age of 50, the skin requires particular care. The
cosmetics in the Ahava Beauty Before … Learn more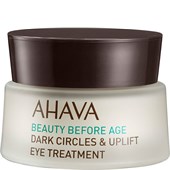 AhavaBeauty Before Age Uplift Eye Treatment
€48.00
/ 15 ml
BP: €3,200.00* / 1000 ml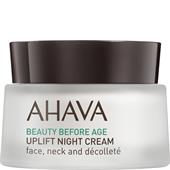 AhavaBeauty Before Age Uplift Night Cream
€65.25
/ 50 ml
BP: €1,305.00* / 1000 ml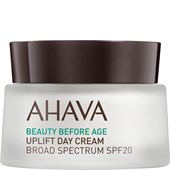 AhavaBeauty Before Age Uplift Day Cream SPF 20
€63.00
/ 50 ml
BP: €1,260.00* / 1000 ml
5/5 AggregateRating
Beauty Before Age Facial care by Ahava
After the age of 50, the skin requires particular care. The cosmetics in the Ahava Beauty Before Age line are specially designed to meet these needs. Ahava is the Hebrew word for love and this skin care range protects the skin from the typical signs of aging with lots of love and the power of the Dead Sea. After the age of 50, the skin loses moisture and elasticity, wrinkles appear and the skin appears tired. The ingredients in Beauty Before Age cosmetics encourage the body's own skin repair mechanism. The result is a younger and more glowing appearance.
Innovative technology for younger looking skin
Facial care from the Ahava Beauty Before Age line is based on the innovative "Positive Stress Dead Sea Metabiotics Technology". This unique technology combines the positive properties of Dead Sea mud with the pichia pastoris organism, a particular strain of yeast. The cosmetics put the survival mechanism of the yeast to use. In order to survive, the organism transforms the mud from the Dead sea into a ferment extract. With its proteins, peptides and essential enzymes, this improves the elasticity of the skin and provides it with more tone, leading to a younger-looking appearance. The Ahava care range also treats the skin with effective infra-red protection. When used regularly, the facial care products will reduce wrinkles and will ensure radiant skin tone in the face, throat and décolleté.