Esoteric by Alyssa Ashley
Alyssa Ashley women's fragrances have cast a spell on women around the world. Having already been so…
Learn more!
Esoteric Women's fragrances by Alyssa Ashley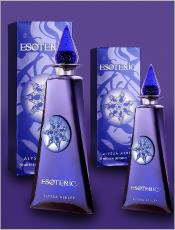 Alyssa Ashley women's fragrances have cast a spell on women around the world. Having already been sold thousands of times, Esoteric is becoming an increasingly popular fragrance. The fragrance can be bought as an Eau de Parfum Spray, Solid Perfume, Hair Mist or Hand & Body Lotion, with the range also featuring a Bath & Shower Gel and Deodorant Spray of the same name.
Esoteric: A fragrance that ensnares the senses
Esoteric is a real flagship of the Alyssa Ashley brand. The scent is based on the essences of oranges, jasmine blossoms, vetiver, amber, musk and star anise. Sicilian lemons round off this sweet fragrance. The sensual interplay of discrete and overpowering aromas gives rise to the unmistakeable character for which the Alyssa Ashley brand is so well-known. Let yourself be enchanted by a fragrance that will stay with you throughout the day: whether you use the Deodorant, Eau de Parfum, Body Lotion or Shower Gel!