Sunscreen by Biotherm
Nowadays, rich
sun protection and sun care products
are considered essential cosmetics nearly…
Learn more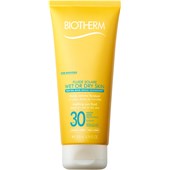 BiothermSunscreen Fluide Solaire Wet Skin
€21.95
/ 200 ml
BP: €109.75* / 1000 ml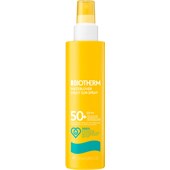 BiothermSunscreen Waterlover Milky Sun Spray SPF 50
€25.95
/ 200 ml
BP: €129.75* / 1000 ml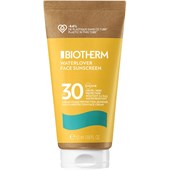 BiothermSunscreen Waterlover Face Sunscreen
€24.95
/ 50 ml
BP: €499.00* / 1000 ml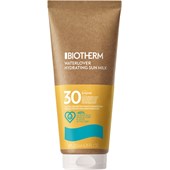 BiothermSunscreen Waterlover Hydrating Sun Milk
€19.95
/ 200 ml
BP: €99.75* / 1000 ml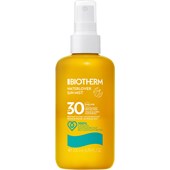 BiothermSunscreen Waterlover Sun Mist SPF 30
€25.95
/ 200 ml
BP: €129.75* / 1000 ml
4,5/5 AggregateRating
Sunscreen Sun care by Biotherm
Nowadays, rich sun protection and sun care products are considered essential cosmetics nearly all year round. With the Biotherm sun care range, women, men and children can have a carefree summer holiday or enjoy the winter sun in the mountains. The creams, lotions and oils are made from the best natural raw materials, suitable for almost every skin type due to their high level of purity. The cosmetics institute's specially developed ingredient complex offers adequate protection and optimal care when applied regularly in the sun.
Sun protection with natural ingredients – Biotherm
To achieve adequate and long-lasting sun protection against harmful UVA and UVB rays, Biotherm creams and lotions offer the necessary sun protection factors, meaning you can enjoy the sun for up to fifty times longer, depending on the sun care product used. The sun filters in the cosmetics products are kind to the skin and also protect against premature skin ageing. Your entire body is also adequately protected against DNA defects and sunburn. The sun care products are easy to apply and are quickly and gently absorbed into the skin due to their smooth textures. Enjoy sunbathing with the right protection Applying a thick, extensive layer of these sun care products gives you greater protection against the sun, without the need to re-apply after spending time in the water. Applying after sunbathing gives you much greater protection against UVA and UVB rays as well as free radicals. To avoid clothing stains, the creams, lotions and oils in the cosmetics range must be fully absorbed by the skin. Despite the care and protection offered by these high-quality Biotherm products, children and adults should avoid the midday sun.