Aqva pour Homme Marine by Bvlgari
Aromatic fragrance notes full of dynamic energy characterise the new men's fragrance by Bvlgari, AQV…
Learn more!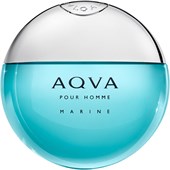 BvlgariAqva pour Homme MarineEau de Toilette Spray
BP: €139.90* / 100 ml
Aqva pour Homme Marine Men's fragrances by Bvlgari
Aromatic fragrance notes full of dynamic energy characterise the new men's fragrance by Bvlgari, AQVA POUR HOMME Marine. AQVA POUR HOMME Marine carries you off into the realm of the ocean, delights with its exceptional vitality and freshness and presents itself as vibrant, radiant addition to the world of AQVA POUR HOMME. With its clear character AQVA POUR HOMME Marine is created for men with a strong personality: In perfect harmony with nature it respects the overwhelming power and refined beauty of the sea. A free spirit that takes its energy from the ocean's breakers.