ck free for men by Calvin Klein
This is what the perfume world had been waiting for: the new CK fragrance "CK free" has been on the …
Learn more!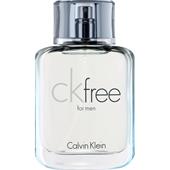 Calvin Kleinck free for menEau de Toilette Spray
BP: €86.50* / 100 ml
ck free for men Men's fragrances by Calvin Klein
This is what the perfume world had been waiting for: the new CK fragrance "CK free" has been on the market since 2009 and is already astounding CK fans. Freedom is the central theme, the certainty of taking charge of your life and getting your own way. Typically masculine notes underline this exploration of feelings! CK free is more than a fragrance. CK free symbolises an outlook on life. The message? Break the mould and go your own way. Men who wear this fragrance need their freedom like they need air to breathe. CK free is inspired by the spirit of a modern, independent man who lives each day to the full.