Foundation brush by Da Vinci
With the
Basic Foundation Brushes
from Da Vinci you can achieve any make-up look. Obvious and…
Learn more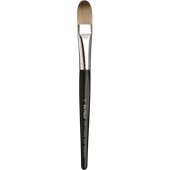 Da VinciFoundation brush Foundation Brush, extra-fine synthetic fibres
€11.95
/ 1 pcs.
BP: €11.95* / 1 pcs.
5/5 AggregateRating
Foundation brush Basic by Da Vinci
With the Basic Foundation Brushes from Da Vinci you can achieve any make-up look. Obvious and unsatisfactory edges on your neck, chin or hairline will be a thing of the past. Our selection contains many different Foundation Brushes from the renowned brand manufacturer. The painted wooden grip is non-slip and will sit comfortably in your hand. Whether its matted powder, liquid or cream foundation: our brushes apply foundation evenly and elegantly with their high-quality fibres. Our Basic Foundation Brushes are to make up what colour is to a painter and are more works of art than tools.
The symbiosis of traditional craftsmanship with innovation
The Da Vinci brand brushes are fully committed to beauty. The targeted arrangement of individual clusters allows you to apply foundation perfectly and gives the user a pleasant feeling on the skin. Compared to traditional materials, the foundation will be applied better and significantly more sparingly. Let yourself be won over by a top-class make-up product and benefit from an immaculate look!