Concealer brush by Da Vinci
Part of a perfect make-up look for many women is a flawless complexion where small uneven areas in t…
Learn more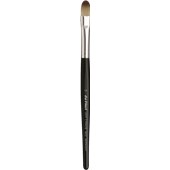 Da VinciConcealer brush Concealer Brush, extra-fine synthetic fibres
BP: €11.95* / 1 pcs.
5/5 AggregateRating
Concealer brush Basic by Da Vinci
Part of a perfect make-up look for many women is a flawless complexion where small uneven areas in the skin or dark circles are easily covered up. A Concealer Brush is a real Basic in this respect which should not be missing from any cosmetics case and is available from the international brand manufacturer Da Vinci in a variety of forms. The company's Concealer Brushes will amaze with their very fine synthetic fibres which make precise work possible and serve excellently to cover up skin irritations even on the smallest surfaces.
Cover up dark circles and other imperfections easily with make-up and brushes
In its Basic range, the brand manufacturer, Da Vinci, from Nuremberg offers many other brushes which, alongside the Concealer Brush, can be used for various purposes, their bristles changing length, shape and character to match each type of make-up. What ties all the brushes from the Basic range together is their attractive price which is aimed at young cosmetics fans and makes taking advantage of the deals in our Online Shop easier. As well as brushes and accessories from Da Vinci, here you will of course also find concealer and cosmetics from many world-renowned brands which invite you to take advantage of this good value on the internet!