Lip brush by Da Vinci
With the
Da Vinci Basic Lip Brushes
you're guaranteed to achieve any make-up look. The Lip Br…
Learn more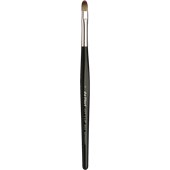 Da VinciLip brush Lip Brush, extra-fine synthetic fibres
BP: €6.95* / 1 pcs.
5/5 AggregateRating
Lip brush Basic by Da Vinci
With the Da Vinci Basic Lip Brushes you're guaranteed to achieve any make-up look. The Lip Brush from Da Vinci stands for traditional craft, high-quality materials and the most modern manufacturing processes. The high standards of quality allow you to use the brush not only in your own home but also in a professional capacity. These are ergonomically designed and will sit perfectly in your hand. The preciseness of the brush allows you to apply make-up perfectly.
For professionally working the lips
The Basic Lip Brushes shape beautiful lips and highlight their natural contours. All brushes are made with high-quality materials such as synthetic fibres or red marten hair. The wood used is painted and allows you to use the brush comfortably. Thanks to the high-quality finish, you're guaranteed to achieve any make-up look you can imagine: Let yourself be inspired by the variety of our selection and find yourself the right Lip Brush now!