Powder brush by Da Vinci
Brushes for applying powder help to make your complexion appear even and conceal small pimples or un…
Learn more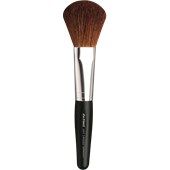 Da VinciPowder brush Powder Brush, brown mountain goat hair
€18.00
/ 1 pcs.
BP: €18.00* / 1 pcs.
5/5 AggregateRating
Powder brush Basic by Da Vinci
Brushes for applying powder help to make your complexion appear even and conceal small pimples or unevenness. A high-quality Powder Brush is therefore an essential part of applying make-up which is why the renowned Da Vinci brand offers various options in its Basic product range. All of the brushes offered in this category use goat hair which stands for naturalness and the highest quality and allows you to apply powder for months to come. Round and oval options as well as various sizes help you apply cosmetic powder comfortably and according to your individual preferences.
Even complexion with practical Powder Brushes from Da Vinci
With the Basic range, Da Vinci offers all the basic tools that guarantee an attractive entrance at work, your downtime or special occasions. A Powder Brush is part of this process for all women and the various products from the Basic range can easily be placed on a single pedestal in your bathroom. Should you be looking for other quality products from this brand apart from a new Powder Brush, then you're certain to strike gold with our online selection and can always take advantage of our good prices.