Blusher brush by Da Vinci
Precise, gentle and professional, the Da Vinci Basic Rouge Brush glides over your face, powdering sk…
Learn more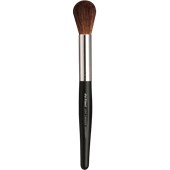 Da VinciBlusher brush Rouge Brush, brown mountain goat hair
BP: €13.95* / 1 pcs.
4,5/5 AggregateRating
Blusher brush Basic by Da Vinci
Precise, gentle and professional, the Da Vinci Basic Rouge Brush glides over your face, powdering skin effectively with Rouge. The fashionable shaft, designed with a matte-black painted appearance, will sit comfortably and securely in your hand. The elegant Rouge Brush will blend perfectly into any handbag or make-up case. This also makes the brush practical for on the go and can be quickly used to freshen up cheek rouge.
Rouge Brush from Da Vince - simple and safe application
The brown goat hair of the Da Vinci Basic Rouge Brush makes applying the rouge particles comfortable and gentle, as the brush hairs feel as soft as a feather. The goat hair picks up the colour perfectly so that the correct amount can be applied to the skin. The goat hair is easy to clean: the brush should be regularly shampooed with mild Da Vinci Cleaning Soap or Brush Shampoo and thoroughly rinsed. Rouge Brushes from this exclusive brand come in various varieties: round or oval brush hair arrangements in various lengths (e.g. 16cm or 17cm). The brushes are Handmade in Germany, which is a guarantee of high quality.