Lips by Elizabeth Arden
Elizabeth Arden has a talent for producing luxurious, glamourous make-up for women that fulfils ever…
Learn more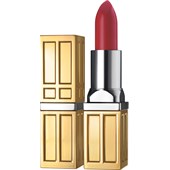 Elizabeth ArdenLipsBeautiful ColourBeautiful Color Moisturizing Lipstick
€20.95
/ 3.50 g
5/5 AggregateRating
Lips Make-up by Elizabeth Arden
Elizabeth Arden has a talent for producing luxurious, glamourous make-up for women that fulfils every desire in terms of colour intensity and care. This also applies to lip make-up, for example the Beautiful Color Luminous Lip Gloss. Intense, radiant nuances, which are enriched with countless shimmering glitter particles coat the lips and let them shine. The gentle shimmer has a seductive effect and the lips appear fuller and more sensuous. This is thanks to the patented Maxi Lip effect. A total of 16 shades are available, starting with natural-looking rose and creme tones, through to sensuous red and on through to sparkling gold or diamond-look. No one can resist this enchanting gloss for the lips.
Lip make-up to fall in love with
With the Beautiful Color Luminous Lip Gloss, Elizabeth Arden has developed a quite special product, which contains many nourishing and valuable ingredients. These include, for example, mango and shea butters. For women who are always on the go, the cosmetics expert has come up with a very special trick: Each lip gloss in this line comes with a practical little mirror. This makes applying when you're on the go child's play. Treat your lips to something extra special with this exciting and caring lip gloss from Elizabeth Arden.