Fruit Garden by Hildegard Braukmann
With their fragrance Edition, Hildegard Braukmann offers exclusive women's fragrances full of emotio…
Learn more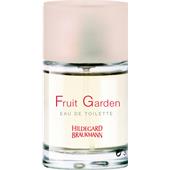 Hildegard BraukmannFruit Garden Eau de Toilette Spray
BP: €29.83* / 100 ml
Fruit Garden Women's fragrances by Hildegard Braukmann
With their fragrance Edition, Hildegard Braukmann offers exclusive women's fragrances full of emotion and fantasy. With its fresh, fruity and floral accents, the perfume Fruit Garden is reminiscent of spring and summer in green, blooming nature.
Fruit Garden - that summer feeling, the whole year round
Its green notes make this perfume the perfect companion during the warmer seasons. But you won't want to miss its fresh character during the rest of the year. It subtly puts a hint of sun into your everyday routine.The fresh effect develops in the top-notes of apple, green grass and hints of pepper. With lavish amounts of magnolia and rose, the central notes transport you to an uplifting summer garden. The base notes of damp earth and moss pull out the green effect from the top-notes and give it stability.As with all creations in the exclusive Edition of women's fragrances by Hildegard Braukmann, you can enjoy Fruit Garden as an Eau de Toilette.