Invisibobble
Behind the amusing Invisibobble name hides an innovative brand that sells plait rings in a variety o…
Learn more
Invisibobble Haircare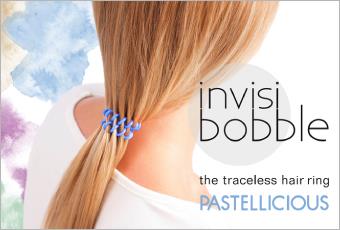 Behind the amusing Invisibobble name hides an innovative brand that sells plait rings in a variety of colours and versions. The premium accessories not only look incredible, but also provide indirect care for your hair, ensuring quick, efficient and gentle styling. All hair rings made by the brand are shaped in a similar way to a ringed cable, thus ensuring irregular and gentle pressure on your hair. As a result, your hair benefits enormously from this as issues such as hair breakage and unsightly streaks are avoided in an efficient manner, while the ring itself also feels really gentle and hardly noticeable at all at the same time. Whether it is used as an aid for your styling or simply to bunch your hair together in a convenient manner: these colourful hair rings will always impress.
Huge colour selection with ingenuity
The Invisibobble accessories come in the most varied of colours to ensure that they also fit in perfectly with your look and hair colour. A jazzy pink comes up against a traditional black, a subtle silver or a turquoise shade reminiscent of your holiday. This huge colour selection is also one of the main strengths of the brand as the accessories not only come across in a really friendly manner, but can also be varied at any time too. The Invisibobble hair rings are guaranteed to ensure that boredom does not ensue, and your hair will also be thankful for the gentle way it is treated too - with chic shine and an immaculate texture.
Even with secondary benefits
Anyone who has not even worn the Invisibobble accessories in their hair or who wants to briefly remove them and re-align them can even wear them as a temporary fancy wristband. Thanks to their stretchy cable shape, they fit perfectly over slim wrists, adding a real eye-catcher and a wonderfully colourful highlight to your own look. The practical utensils are originally produced in the heart of Munich, but are also sold internationally as well. As a result, these colourful accessories with the amusing name have managed to conquer the world and, in doing so, protect the delicate hair of active women.