Lip care by Korres
It's a well-known fact that beautiful lips are just waiting to be kissed! But not just that, as the …
Learn more
Lip care Facial care by Korres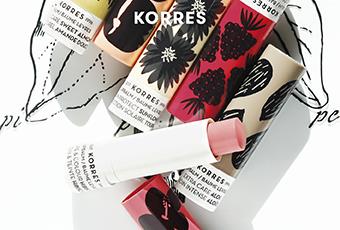 It's a well-known fact that beautiful lips are just waiting to be kissed! But not just that, as the right lip care makes them feel much more pleasant as well. As an expert in the facial care area, Korres also offers products for lips that protect them, supply them with moisture and simply smell nice. The addition of moisture is especially important, as the lips have only very thin skin layers that can quickly dry out or become cracked. However, hydrating them with nurturing butter and other oil-replenishing substances can successfully avoid such a condition.
Cosmetics that nurture the lips
Among other things, Korres offers a nurturing lip butter for lip care. Thanks to its oil-replenishing properties, this has the benefit of still hydrating when it is not even being actively used. In addition, the cosmetic lays a protective, invisible film over the lips that allows strong winds and coldness to drip off. The right facial care is essential in winter to avoid the skin becoming chapped or drying out. Here, the lips should not receive any less attention than cheeks, nose or forehead.